Quality products with unparalleled customer service.
Our mission is to prioritize your horse' comfort as well as your own.
WELCOME
We carry your favorite brands
Don't hesitate to contact us to know more
ABOUT US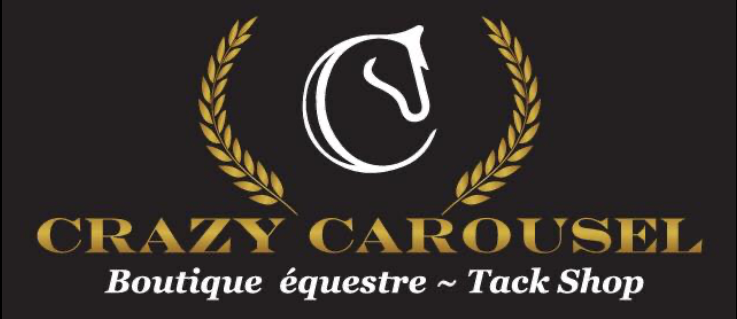 CRAZY CAROUSEL'S STORY

Crazy Carousel was first born in the trunk of a car, only to upgrade to a stable's tackroom and finally to the store located in Vaudreuil-Dorion, near Hudson.

After 35 years of experience, it is still our utmost priority to make our clients feel welcomed and valued when they do business with us.

Our goal is to offer a personnalized service curated to your unique necessities.

Due to our common love of horses and riding, we thrive to offer a wide variety of equipement and clothing.

We also have a large section of used and discounted items to offer.

We wish to make sure that you can find whatever suits your needs, while following your budget.

We look foward to assisting you!
MÉLISSA LAUZON, OWNER

Mélissa started riding at 10 years old. She competed in regional and provincial dressage circuits from the ages of 16 to 22.

Her passion brought her to join the Lippizzaner Us Tour for a year. Upon her return, she competed up to Prix St-George.

This achievement led her to become a stable owner, buying her lifelong partner Mama and training her up to level 4-PSG. She also coached many students at that time.

For the past 4 years she is now the proud owner of Crazy Carousel Tack Shop. Her extensive equestrian knowledge makes her a excellent reference when it comes to the needs of both horses and riders alike.
MYLÈNE MAJOR

Born and raised around horses, Mylène started riding at the early age of four years old. For years she competed on the regional circuit, riding both English and Western pleasure.

After starting her own business in interior design and becoming a mother, she decided to make a big life change by switching into hunter/jumper. A few years later, she became an Equine Canada certified instructor which she still is today. She is also going back to competing on the Provincial circuit.

Combining her passion for horses and design with her business skills brought her to join the Crazy Carousel team. 

She assist Mélissa with online marketing and branding.



ZOÉ DIOTTE-JOLY

Growing up in Turks and Caicos, Zoe started riding and lessoning trail horses at the age of 10. Every summer, she would fly back to Montreal where she was training, riding and competing in all three rings.

Lucky for us, she has now moved full time to Montreal where she is currently leasing her partner Cosmic Eclipse (Cosmo) and showing in the 1 meter jumpers on the A-circuit.

Zoe works part-time at the store primarily in customer service and she is also our '' in-house model''.